WORLD TOURNEY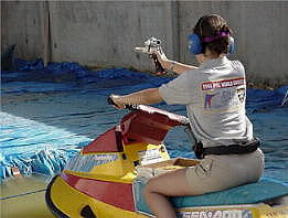 RP shooters sweep crown titles

By Rafael S. Alas III PDI Visayas Bureau

LAPU LAPU CITY, Mactan--The World Shoot XII ended Saturday with a big bang for the Philippines' top guns, who won the Men's and Women's Open team championships, beating early favorite United States.

RP's Athena Lee and France's Eric Grauffel stood tall when the shooting ceased at the Cebu Pistol and Rifle Association's firing range in this city as they grabbed the top honors in the individual competitions.

Grauffel, a juniors standout, had a total of 1882.1396 points to rule the Men's Open and the Juniors' individual contests.

Lee, a resident of Cagayan de Oro and a student of Mindanao State University-Iligan, logged in 1451.8350 points to win the women's crown, and steer the RP women's team to victory.

Mary Grace Tan, Jannete Gonzaga, Jean Esquera and Lee had a good shooting spree, scoring 4161.7827 points to improve the country's second-place finish in the previous World Shoot in Brazil.

Tan garnered 1430.2970 points, which also placed her at the second place overall in the Women's individual tally, while Gonzaga pitched in 1279.6499 points.

The next best women's team was the United States with 3901.8905. Sheila Brey pulled in 1340.9171 points, Kay Clark-Miculik 1309.1232 and Sharon Edington 1251.8502.

South Africa was third with 3789.4515 points, through Chantal Tam's 1364.9586, Leanie Hennas 1364.9586 and Anita Klein's 1189.1973.

In fourth place was Austria with 3701.0706, fifth was Australia with 3654.9392, sixth was US Silver Lining with 3603.8327 and seventh was Canada with 3149.8451.

Over at the Men's Open, the Philippines scored a big win over the highly favored Americans.

World Champion Jethro Dionesio, Jeufro Lejano and Patrick Marvin Sanchez lifted RP above the rest in the men's team event, accounting for most of the team's 5219.3751 output.

Dionisio, who is also third overall in the Men's Open, scored 1784.1558 points in the 35-stage contest.

Lejano, the second placer in the Juniors' during the World Shoot XI, contributed 1719.1204 points, and Sanchez chipped in 1716.0989 points.

Lejano was sixth in the Men's Open, while Sanchez was eighth.
<![if !vml]>

<![endif]>United States' Standard division team copped second place honors with 5199.9830 points courtesy of Michael Voight (1771.0359 points), Frank William Garcia (1763.0764 points) and Angelo Spagnoli (1665.8707.)

In third place was another US team led by World Shoot XI Open champion Todd Jarret.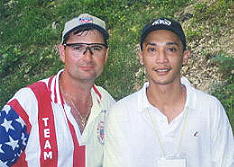 The trio scored 5161.1184, with Jarret's 1813.7624 (second best in the individual tally), Robert Leatham's 1704.5984 and Tawn Argeris' 1642.7576.

RP's team for the Standard tilt placed fourth with 5023.8618. The team is composed of Enrico Papa who scored 1693.4665, Robert Tan with 1673.4055 and Luis Lee with 1657.2902.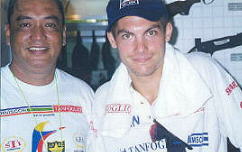 Other men's team that made it to the top 10 were Italy with 5000.3143 (fifth), Czech Republic with 4952.6326 points (sixth), US Juniors' team with 4784.4896 (seventh), Philippines' Modified team with 4771.1589 (eighth), South Africa's Standard team with 4744.6518 (ninth) and Sweden
with 4695.9547 (tenth).

The overall winners in the other divisions are as follows: Juniors'--Grauffel (first), Michel (second), Stephen Hinojales (third) Jimmy Reed (fourth), Frank Cruz (fifth) and Simon Patrick Racaza
(sixth);

Women's--Lee (first), Tan (second), Chantal Tam (third), Sheila Brey (fourth) and Kay Clark-Miculik (fifth) and Jannet Gonzaga (sixth);

Standard--Michael Voight (first), Frank William Garcia (second), Adriano Santarcangelo (third), Estrada Gomez (fourth) and Robert Soderstrom (fifth);

Modified--Pancel Jasansky (first), Enrico Papa (second), Roland Tan (third), Roberto Vezzoli (fourth) and Luis Lee (fifth).
---
For the reader's guidance
The foregoing article was actually taken from a local morning newspaper in Cebu (minus the photos, of course), that followed after the World Shoot XII has been concluded. It belonged to a certain Rafael S. Alas III of PDI Visayas Bureau and the dates that normally accompany an article was somehow lost during this website's preparation.
So as you can see, the presence of the article here was really intended to capture that particular event that took place here (who knows?) maybe once in our lifetime.
True, the contents of this article pertaining to actual results are quite misleading. Since we cannot blame the author nor alter his works without his permission, we decided to add this portion instead about a comment found on our Guest Book.
Unfortunately, the writer did not leave any name for the credits due regarding this fine research. So Many thanks to Rico for calling our attention on this and for confirming that the guest book entry was for real belonging to a close friend of his.
I would like to congratulate SSGCI for your very informative website. This is the first Philippine Practical shooting website I have visited and I would say it is worth my time. You really keep your website updated of the events happening within the shooting industry. Though , I would like to make a correction , if I may, on your "World Shoot XII Flashback" particularly the following :
"RP's team for the Standard tilt placed fourth with 5023.8618. The team is composed of Enrico Papa who scored 1693.4665, Robert Tan with 1673.4055 and Luis Lee with 1657.2902."
I was able to watch the action in Cebu and based on the facts that I know and have also re-confirmed it through IPSC's website.
The above should read as :
" RP's team for the Modified tilt placed first with 5081.9330. The team is composed of Enrico Papa who scored 1723.8575, Roland Tan with 1673.1054 and Luis Lee with 1684.9701. "
The Standard Team A which has a total of 4615.9149 points was composed of Danny Torrevillas, Wilfredo Anglo, Ariel Santos and Severino Chan. "Modified--Pancel Jasansky (first), Enrico Papa (second), Roland Tan (third), Roberto Vezzoli (fourth) and Luis Lee (fifth)." As per IPSC's match results : It was LUIS LEE who placed 3rd and Roland Tan only placed 4th. I hope that you would look into this matter and make the necessary corrections so we could give to the right persons the recognition due them. Thank you and more power. :)
AHA